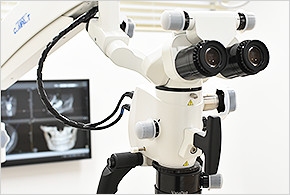 For advanced treatments, precision of the treatment is particularly required. By using a microscope, you can expand the field of view to about 3 to 20 times bigger than that seen by the naked eye. This gives us the ability to check the details of your teeth and have a more precise treatment. With general fillings, using a microscope will prevent us from drilling into the healthy portion of the tooth. We will be able to see the exact area of the tooth that needs to be drilled into making this a more accurate treatment.
In addition, patients will feel more confident with their treatment plan because we will show the images from the microscope showing the necessity for treatment.
Currently, only 1 to 2% of clinics use microscopes all over the country. The short history of use of microscopes in the dental field, the high costs of the equipment, and the lack of sufficient education are considered to be the main reasons for the lack of widespread use. In our clinic, we use a microscope for all treatments and work hard on the improvement of technology. We want to make sure that we can provide more precise and advanced treatments to our patients.
About Root Canal Treatment
A root canal treatment is the treatment of the root of the tooth. It is a treatment that cleans the roots of the teeth that have been contaminated with bacteria. We then stuff the root canal so that the bacteria cannot contaminate the root again. The root canal, which is located inside the tooth, is also one of the most needed treatments for a microscope due to its very complex and detailed form. By using a microscope, we can perform these treatments while confirming the details of the root that can not be seen by the naked eye. This enables accuracy of treatment and significantly increases the success rate while reducing the reoccurrence rate.
・About Other Treatments

Microscopes make the images of your teeth large, which gives us the ability to see more clearly, and can help us to see the condition of your gums and teeth. A dental microscope helps when drilling into teeth, applying fillings, oral surgery, or whether you have tooth decay.

・Benefits of Treatment

Because a microscope helps us to see the details not often seen by the naked eye, it is possible for us to treat the condition more aggressively while only treating the affected areas without excessive drilling into the remaining teeth.
Since there is no need to drill excessively into the teeth, your teeth will last longer and treatment times will be shorter; this, is more beneficial for root canal treatments.

・About the Penetration Rate

There are only 3,000 microscopes currently in use, which is only about 5% of the approximate 68,000 dental clinics in Japan.
Currently, the rate of microscope use is about 1 in every 20 dental clinics.